Camping Gear for a Quick Setup and a Stress-Free Trip
Bevan Hall
Founder - Overedger Outdoors
Engineer and Adventurer. Making the most of what we've been given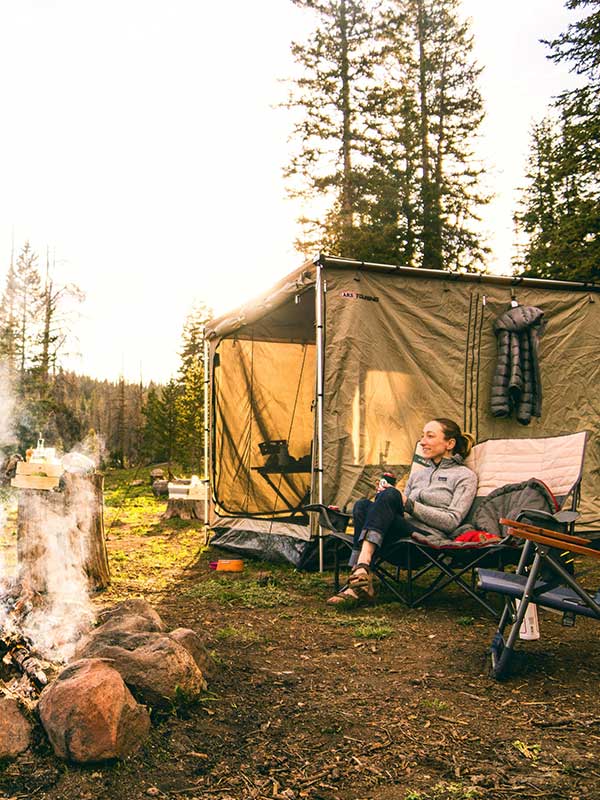 Camping is a popular weekend and holiday activity for outdoor enthusiasts, but it isn't always stress free. It's common to put camping in the 'too hard' basket, right next to that jumble of forks, cling wrap, a rusted billy can and damp paper towels that you tossed in the back of the garage after your last trip.
It's the packing and unpacking that can be the challenge, but it's everything in between that is most important – some of life's best moments happen around a camp fire!
To make things easier for your next adventure, we've rounded up some of the most convenient gear that will take the hassle out of camping and leave you more time for the important things in life. Here's some tips and easy ways to set up your home away from home.
The Kitchen: Having a Convenient Camp Kitchen Setup is a Game Changer
A well organised camp kitchen can eliminate a lot of stress, from packing and unpacking to day to day use. Camp cooking is part of the fun, but can quickly become a headache if you aren't prepared.
To simplify matters, have a set of dedicated camp utensils and equipment ready to go so you don't have to rummage around looking for bits and pieces from your home kitchen. This way you'll always have what you need, and you're less likely to overpack things you don't. Plus, those forks and tongs that you took from the draw at home may well end up in the abyss of a camp box or floating around in your cooler, and unless you're organised, may never make it back from that weekend in the bush.
Handy organisation tools like the Overedger Pack have see-through pockets, so you can see where all your camping gear is stored. This unique design can hang up in camp like a display cabinet of all your utensils and gadgets, keeps everything tidy and organised, and folds into a box for easy storage at home when not in use.
Other handy camp kitchen gear includes a foldable table that doesn't take up too much space in the car and is easy to assemble, and a good quality cooler that lasts as long as you'll need (some have a longer ice life than others).
A good camp kitchen set up is also easy to keep clean. Choose materials that are easy to wipe down and make sure you have a system in place for rubbish disposal and washing up. Pop up sinks are a great space saving tool, and attaching a hose or nozzle to your water container allows for extra pressure when doing your dishes or cleaning up around camp.
Not only will this gear make your life easier while you're off on your adventure, it also means you won't have to worry about your camp kitchen when you get home – you can simply pack everything away knowing that it is ready to go for the next camping holiday.
The Living Room: Camping Awnings vs Gazebos
You're likely to spend most of your time around camp under a portable shelter. This will protect you and your camping equipment from the sun, rain, and bypassing birds.
Awnings and gazebos come in different designs and sizes. Consider the ease of set up and the materials in your decision making – look for durable fabrics that suit the climate. You can also get attachable side panels of either mesh fabric to keep the bugs out while providing ventilation, or waterproof fabric to protect against rain or condensation.
Awnings that attach to your vehicle are generally very easy and quick to set up and pack away on your own and also save a lot of space. The down side is that they are often smaller than larger gazebos, and you'll have to pack them away if you want to go for a drive.
If you want to have the flexibility to day trip in your car without impacting your camp setup, perhaps consider a gazebo. You can get easy pop up designs, but they tend to take a little longer to set up and pack away than awnings. Although you can manage them solo, they are much easier with two or more people. You could also opt for a tent awning which adds outdoor space to your tent set up, however, consider your privacy if you are camping in a group.
The Bedroom: An Easy Pop Up Tent
If you are looking for an easy camp set up (and who isn't?!), then a pop up tent can work wonders. Instant tents make setting up camp quick and easy, and most can be done single-handedly. Naturally the most important feature is how effortless they are, and some can take only a minute or so to put up.
Some other things to consider when choosing the right pop up tent is weight and size, if there is enough room to stand up (so you don't feel like a magician getting out of restraints every time you change clothes), and whether it comes with features such as built in pockets to store your gear and gadgets.
Depending on the climate, you'll also want to look at how many mesh windows there are for ventilation (as well as how breathable the fabric is), and whether it comes with a waterproof layer. If you like the idea of sleeping under the stars minus the bugs, consider one that has a mesh top so you can throw off the waterproof cover if there is no threat of rain.
With these camping essentials you'll have somewhere to sleep comfortably, a space to kick back and relax, and a camp kitchen all set up in no time, so you can get on with the good stuff.